VALENTINE + BRITISH INFANTRY
This box is a combination of Italeri – 6056 – World War II British Infantry and Italeri – 7013 – Valentine MK-III
It also contained 6 paints, liquid cement and a brush, but due they were released some ago, if you find some one still at sale, paints may not be at its best state.
Tržiště
V současné době procházíte nabídky pro
Czech Republic. Vyberte si svou zemi z nabídky poloha/jazyk, abyste získali správné výsledky. Pokud vaše země není v seznamu, zkuste výchozí EN-U.S. nebo zkuste nejbližší místo, pokud existuje.
Tento web obsahuje affiliate odkazy na produkty. Můžeme obdržet provizi za nákupy provedené prostřednictvím těchto odkazů.
Italeri 73006 1:72 Modellbau-Set WWII britisch Valentine Mk I Infanterie neu OVP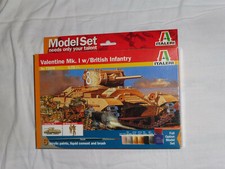 Viz na Ebay.de »
Doprava do: CZ
Z: DE
Prodávající: beebams
100.0% Kladné hlasy
*Informace o ceně a přepravě se mohly od poslední aktualizace změnit, stejně jako mohou platit další podmínky.
Kontrola na partnerském webu před nákupem.