VF-1D Valkyrie Variable Type
Unassembled plastic model kit in 1/72 scale of a VF-1D Valkyrie from Super Dimension Fortress Macross 1982 anime TV series, variable type, transformable in between Fighter to Battroid position, with two intermediate position, Gerwalk, and another intermediate between Gerwalk and Fighter. Transformation required change a part in the torso.
Same kit was later released under Bandai brand.
MARKTPLATZ
Diese Website enthält Affiliate-Links zu Produkten. Wir erhalten möglicherweise eine Provision für Einkäufe, die über diese Links getätigt werden.
Imai Macross VF-1D Walküre variabler Typ B-1309 1/72 Modellbausatz D20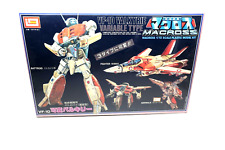 Siehe bei Ebay.de »
Versand nach: Germany
Von: United States
Verkäufer: wiseguyshobbies
99.2% Positive Stimmen
* Informationen zu Preis und Versand haben sich möglicherweise seit unserem letzten Update geändert, und es können andere Bedingungen gelten.
Überprüfen Sie vor dem Kauf auf der Partnerseite.