Russian Farm Houses
Unassembled plastic models of two houses, not equal, Russian or barn type suitable for a large range of time. Easy to assemble in 17 pieces, roofs can be not glued making detachables for games.
MARKTPLATZ
Diese Website enthält Affiliate-Links zu Produkten. Wir erhalten möglicherweise eine Provision für Einkäufe, die über diese Links getätigt werden.
Russisches Farmhaus - 2 Stück · Pegasus Hobbies · Maßstab 1:72
See on Modellbau Universe »
Von: Germany
Verkäufer: Modellbau Universe
Stock: zur Zeit nicht lieferbar
Pegasus 1/72 russische Bauernhäuser - Kunststoff-Modellbausatz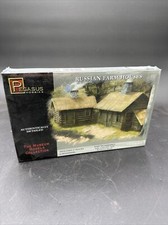 Siehe bei Ebay.de »
Versand nach: Germany
Von: United States
Verkäufer: 50tamburlane
98.6% Positive Stimmen
* Informationen zu Preis und Versand haben sich möglicherweise seit unserem letzten Update geändert, und es können andere Bedingungen gelten.
Überprüfen Sie vor dem Kauf auf der Partnerseite.