An-14 NATO code "Clod"
Aeroflot
Unassembled plastic model kit in 1/72 scale of a Soviet 60s Antonov An-14 utility aircraft, a twin-engined STOL aircraft which was not a great success and only produced in over 300 units till 1972.
Kit includes Aeroflot (Red) markings.
MARKTPLATZ
Diese Website enthält Affiliate-Links zu Produkten. Wir erhalten möglicherweise eine Provision für Einkäufe, die über diese Links getätigt werden.
1/72 an-14 rot Aeroflot _ neue Amodel 72224 _ Neuauflage!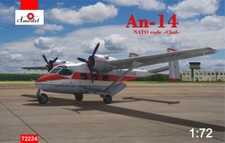 Siehe bei Ebay.de »
Versand nach: Germany
Von: Ukraine
Verkäufer: linsal77
99.3% Positive Stimmen
* Informationen zu Preis und Versand haben sich möglicherweise seit unserem letzten Update geändert, und es können andere Bedingungen gelten.
Überprüfen Sie vor dem Kauf auf der Partnerseite.