PZL W-3A Sokół
TOPR Rescue Helicopter
Unassembled plastic model kit in 1/72 scale of a Polish utility helicopter PZL W-3 Sokół, the first helicopter totally designed and produced in Poland. W-3A variant is a both civil and military variant, transport type with several units modified to search and rescue service or medical emergency services.
Tooled and released in 2022.
Kit consists of 198 plastic parts plus PE detail parts. Decal sheet includes two markings, TOPR rescue helicopter (Tatra Volunteer Search and Rescue, a non-profit mountain rescue association from Poland) and LPR (Lotnicze Pogotowie Ratunkowe, Polish air ambulances or Polish Medical Air Rescue) medical helicopter.
This is a highly detailed kit with a large number of parts and a large number of photo-etched detail parts. Kit is not recommended for beginners.
MARKTPLATZ
Diese Website enthält Affiliate-Links zu Produkten. Wir erhalten möglicherweise eine Provision für Einkäufe, die über diese Links getätigt werden.
Answer AA72002 PZL W-3A Sokol (Falcon) TOPR 1/72 Kunststoff-Kit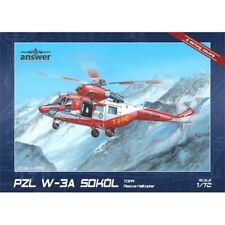 Siehe bei Ebay.de »
Versand nach: Germany
Von: Poland
Verkäufer: scalemodels_4you
99.9% Positive Stimmen
PZL W-3 A SOKOL MEDEVAC (POLNISCH GOPR & LPR MKGS) #72002 1/72 ANTWORT BRANDNEU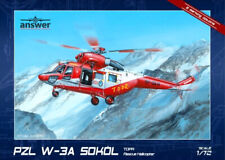 Siehe bei Ebay.de »
Versand nach: Germany
Von: Poland
Verkäufer: trinitymews2
99.9% Positive Stimmen
* Informationen zu Preis und Versand haben sich möglicherweise seit unserem letzten Update geändert, und es können andere Bedingungen gelten.
Überprüfen Sie vor dem Kauf auf der Partnerseite.