Alouette III Sécurité Civile
STARTER KIT
An original Heller kit, which first variant was released in 1980. Recently it has been also released by Kovozávody Prostějov
Sécurité Civile version added new parts in 1989 to the original 1980 mold. Kit contains 72 parts and decal sheet for 2 markings.
Starter kit contains glue, brush and several paints.
MARKTPLATZ
Diese Website enthält Affiliate-Links zu Produkten. Wir erhalten möglicherweise eine Provision für Einkäufe, die über diese Links getätigt werden.
Alouette III Securite Civile - Starter Kit · Heller · Maßstab 1:72
See on Modellbau Universe »
Von: Germany
Verkäufer: Modellbau Universe
Stock: verfügbar - Lieferzeit 2-6 Werktage
Heller 56289 - 1:72 STARTER KIT Alouette III Sécurité Civile - Neu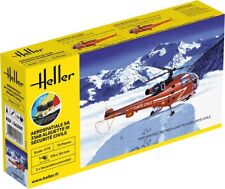 See on Ebay »
Shipping to: Germany
From: Germany
Seller: ms-plueth
99.9% Positive votes
Heller - 1/72 Starter Kit 316b Alouette Iii Securite Civile Toy NEU

See on Ebay »
Shipping to: Germany
From: United Kingdom
Seller: rarewaves-outlet
99.4% Positive votes
* Informationen zu Preis und Versand haben sich möglicherweise seit unserem letzten Update geändert, und es können andere Bedingungen gelten.
Überprüfen Sie vor dem Kauf auf der Partnerseite.