Messerschmitt-Bolkow-Blohm BK.117
Unassembled plastic model kit in 1/72 scale of a MBB/Kawasaki BK 117 utility helicopter, a join development of Messerschmitt-Bölkow-Blohm (MBB) of Germany and Kawasaki from Japan. The design later become part of Airbus serving of base for the develop of the Eurocopter EC145.
The BK 117 was introduced in 1982 and remains operative and in production.
This original Matchbox kit tooled in 1988 is one of the most successful Matchbox kit, released under Revell brand almost 7 or 8 times, last one in 2016, almost 30 years after it was tooled. Kit included a decal sheet with two markings, one German (ADAC-Allgemeiner Deutscher Automobil-Club e.V., German motoring association, 1984) and one Japanese (Aero Asahi, the largest helicopter operator in Japan, dated 1987). Hasegawa also released this kit in 2014.
MARKTPLATZ
Diese Website enthält Affiliate-Links zu Produkten. Wir erhalten möglicherweise eine Provision für Einkäufe, die über diese Links getätigt werden.
Vintage Matchbox Flugzeug Aircraft Kits Modell Flugzeug großer Sammlung wählen Kit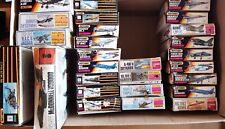 See on Ebay »
Shipping to: Germany
From: United Kingdom
Seller: right2buy!
100.0% Positive votes
1 72 Modell Hubschrauber Messerschmitt Bolkow-Blohm BK.117 Matchbox Komplett
See on Ebay »
Shipping to: Germany
From: United States
Seller: thehotgirl12_4
99.9% Positive votes
Seaied Matchbox 2 Farbe pk-48 Messerschmitt bk.117 Modell Kit 1:72 Scale siehe des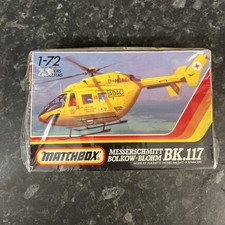 See on Ebay »
Shipping to: Germany
From: United Kingdom
Seller: thecollectors_corner
99.2% Positive votes
* Informationen zu Preis und Versand haben sich möglicherweise seit unserem letzten Update geändert, und es können andere Bedingungen gelten.
Überprüfen Sie vor dem Kauf auf der Partnerseite.