Robinson R-44 Astro/Raven
Information is not complete yet but seems the interesting box art marking will be not be included.
Markings:
Sprue parts:
MARKTPLATZ
Diese Website enthält Affiliate-Links zu Produkten. Wir erhalten möglicherweise eine Provision für Einkäufe, die über diese Links getätigt werden.
Stransky Kits STR7201
See on Hannants »
Von: United Kingdom
Verkäufer: Hannants
Stock: InStock
Robinson R-44 Astro/Raven, 1:72, Stransky, Plastik,NEUHEIT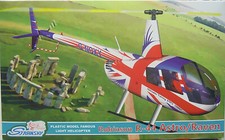 Siehe bei Ebay.de »
Versand nach: Germany
Von: Germany
Verkäufer: raduir
99.1% Positive Stimmen

Ursprünglicher Preis war 16.89 ein 12% von Rabatt
1/72 Robinson R-44 Astro/Raven Japan/Uk/Australia Marking Ver.
See on Hlj.com »
Von: Japan
Verkäufer: Hlj.com
Stock: Out of Stock
* Informationen zu Preis und Versand haben sich möglicherweise seit unserem letzten Update geändert, und es können andere Bedingungen gelten.
Überprüfen Sie vor dem Kauf auf der Partnerseite.