Three Kingdoms
(Shu Kingdom set 1)
Unpainted plastic soldiers in 1/72 scale of a mix of historical and video games and contemporary TV series and Cinema influences. Kit contains 33 figures, where 29 are troops while 4 (some bigger figures) are special characters/heroes being those the one influenced by contemporary media, also in its bigger size.
The Three kingdoms, from 220 to 280 AD, was the tripartite division of China among the states of Wei, Shu, and Wu. Some of the figures remind to those included in the Caesar – H043 – Chinese han dynasty troopers, and is not strange, since the Three Kingdoms were established just after Han Dynasty fall.
*A second box type for this same reference and content is starting to appear, with the subtitle of Sichuan Province Set 1 rather than the initial Shu Kingdom set 1.
MARKTPLATZ
Diese Website enthält Affiliate-Links zu Produkten. Wir erhalten möglicherweise eine Provision für Einkäufe, die über diese Links getätigt werden.
Caesar Miniatures TK001
See on Hannants »
Von: United Kingdom
Verkäufer: Hannants
Stock: InStock
Caesar Miniatures 1/72 Three Kingdoms Sichuan Province Set 1 # 001
See on eModels »
Von: United Kingdom
Verkäufer: eModels
Stock: In Stock
NEU 1:72 Caesar TK-001 Asien Antike Mittelalter Three Kingdoms Shu Figuren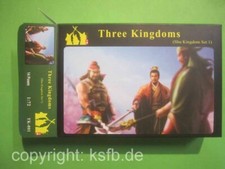 See on Ebay »
Shipping to: Germany
From: Germany
Seller: kunststoffboerse-2020
100.0% Positive votes
* Informationen zu Preis und Versand haben sich möglicherweise seit unserem letzten Update geändert, und es können andere Bedingungen gelten.
Überprüfen Sie vor dem Kauf auf der Partnerseite.