The Army of Athens Set 1
Peloponnesian War Sicilian Expedition 415-413 BC
Unpainted plastic soldiers in 1/72 scale depicting Athenian hoplites during the Peloponnesian War (431–404 BC), a war between Athens and Sparta and their respective allies, which eventually drove to a Spartan hegemony period after Athens defeat in which the Athens defeat in the so called Sicilian Expedition had an important role.
This box contains 48 foot figures in 12 different poses, each pose in a x4 format. All the figures depicts Athenian hoplites during the Peloponnesian War and though labelled as to be part of the Athens attempt to conquest Syracuse (Sicilian Expedition (415–413 BC)) they can be used elsewhere during the period and even as other Greek troops no only Athenian.
Figures detail and sculpture is excellent.
MARKTPLATZ
Diese Website enthält Affiliate-Links zu Produkten. Wir erhalten möglicherweise eine Provision für Einkäufe, die über diese Links getätigt werden.
Linear-A LA031
See on Hannants »
Von: United Kingdom
Verkäufer: Hannants
Stock: PreOrder
1:72 FIGUREN 031 PELOPONNESIAN WAR, The Army of Athens - LINEAR-A NEU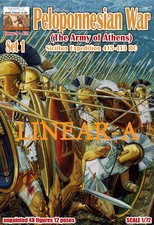 Siehe bei Ebay.de »
Versand nach: Germany
Von: Germany
Verkäufer: linear-ashop
99.5% Positive Stimmen
* Informationen zu Preis und Versand haben sich möglicherweise seit unserem letzten Update geändert, und es können andere Bedingungen gelten.
Überprüfen Sie vor dem Kauf auf der Partnerseite.