Hellenistic Diadochi Epigonoi-Ptolemaic Infantry PHALANX Set 1
"Battle of Raphia 217 BC"
Unpainted plastic soldiers in 1/72 scale of Ptolemaic infantry Phalanx in the context of the Diadochi wars, happened after Alexander the Great death.
Box contains 24 figures in 8 different poses.
MARKTPLATZ
Diese Website enthält Affiliate-Links zu Produkten. Wir erhalten möglicherweise eine Provision für Einkäufe, die über diese Links getätigt werden.
Linear-A LA034
See on Hannants »
Von: United Kingdom
Verkäufer: Hannants
Stock: InStock
1:72 FIGUREN 034 HELLENISTIC DIADOCHI/EPIGONOI - PTOLEMAIC INFANTRY LINEAR-A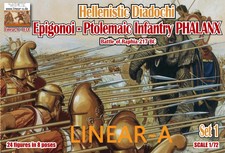 See on Ebay »
Shipping to: Germany
From: Germany
Seller: linear-ashop
99.5% Positive votes
Linear-A 1/72 Hellenistic Diadochi Set 1 Ptolemaic Infantry # 034
See on eModels »
Von: United Kingdom
Verkäufer: eModels
Stock: In Stock
* Informationen zu Preis und Versand haben sich möglicherweise seit unserem letzten Update geändert, und es können andere Bedingungen gelten.
Überprüfen Sie vor dem Kauf auf der Partnerseite.