Obice da 75/18 Mod35 Howitzer & Italian Crew
Unpainted and unassembled plastic soldiers in 1/72 scale of Italian WWII with a Obice (Howitzer) da 75/18 modello 35, a 75mm Italian artillery piece based on the Obice da 75/18 modello 34 mountain gun, but in difference to this, the modello 35 did not split into smaller loads and had a split trail, rather than the box trail of the mountain version.
modello 35 was used as standard field artillery during the war as well as the main armament of the Semovente 75/18 assault gun. The type, was also exported to Portugal and South American countries. It was also used as anti-tank gun using HEAT munition. Initial production models used Elektron (a magnesium alloy) wheels and later pressed steel wheels which are the ones depicted in the kit.
Although on field, probably many times was removed or lost, modello 35 was a shielded gun, but Strelets do not provide parts for the shield.
The box contains 12 figures in 12 poses and two guns. The guns, are molded in the same soft plastic than figures and split in just 6 parts.
MARKTPLATZ
Diese Website enthält Affiliate-Links zu Produkten. Wir erhalten möglicherweise eine Provision für Einkäufe, die über diese Links getätigt werden.
Strelets STR28272
See on Hannants »
Von: United Kingdom
Verkäufer: Hannants
Stock: InStock
STR 282 Obice da 75/18 Mod 35 Howitzer & Italian Crew
See on Hobby.dn.ua »
Von: Ukraine
Verkäufer: Hobby.dn.ua
Stock: PreOrder
1:72 Strelets #282 WKII Afrika Obice DA 75/18 Haubitze Italien Crew Kanone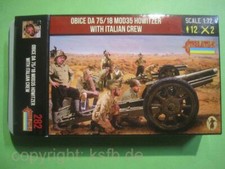 Siehe bei Ebay.de »
Versand nach: Germany
Von: Germany
Verkäufer: kunststoffboerse-2020
100.0% Positive Stimmen
* Informationen zu Preis und Versand haben sich möglicherweise seit unserem letzten Update geändert, und es können andere Bedingungen gelten.
Überprüfen Sie vor dem Kauf auf der Partnerseite.