German Infantry 42-44
21 hard plastic figures with head and weapon options. First of the re tooled re scaled figures sets produced in response to customer feedback to complement the existing Valiant range. Please note the box refers to grenades and an arm option with binoculars being included – this is a printing error – these accessories are in FT002 – the Fighting 20s German MG42/Mortar box.
Note those are 1/72 may not fit previous Valiant products (too big for 1/72) but may fit other 1/72 makers.
MARKTPLATZ
Diese Website enthält Affiliate-Links zu Produkten. Wir erhalten möglicherweise eine Provision für Einkäufe, die über diese Links getätigt werden.
VALIANT MINIATURES 1:72 - Fighting 20s Deutsch Infanterie 42-44 - ft001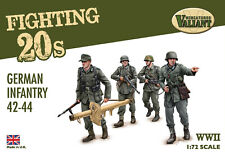 See on Ebay »
Shipping to: Germany
From: United Kingdom
Seller: nannyogg999
99.7% Positive votes
* Informationen zu Preis und Versand haben sich möglicherweise seit unserem letzten Update geändert, und es können andere Bedingungen gelten.
Überprüfen Sie vor dem Kauf auf der Partnerseite.