Cromwell's Cavalry
While some nice and good sets can be found in this scale to cover the English Civil War, till this release, and remains so, no one depicted this famous cavalry, commonly known as Cromwell's Ironsides in 1/72 scale.
The box offer us 12 mounted figures in 4 different poses, and two horse poses. Well, it's better than nothing, but it's a bit limited. You have an arm option for one figure, allowing you to choose between a flag or trumpeter, but in best case, in 12 figures you will have 2 trumpeter & 2 flags.
Anyway is a very interesting set, well sculpted and well casted.
MARKTPLATZ
Diese Website enthält Affiliate-Links zu Produkten. Wir erhalten möglicherweise eine Provision für Einkäufe, die über diese Links getätigt werden.
Waterloo 1815 WLAP033
See on Hannants »
Von: United Kingdom
Verkäufer: Hannants
Stock: InStock
Waterloo 1815 - 033 - Cromwell´s Cavalry ECW - 1:72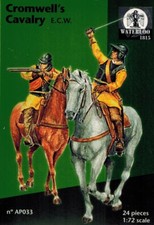 Siehe bei Ebay.de »
Versand nach: Germany
Von: Germany
Verkäufer: dubi-4
100.0% Positive Stimmen
* Informationen zu Preis und Versand haben sich möglicherweise seit unserem letzten Update geändert, und es können andere Bedingungen gelten.
Überprüfen Sie vor dem Kauf auf der Partnerseite.