Nieuport NI.21
(French Markings)
Length model, mm: 89
Wing span, mm: 131
The kit includes:
2 frames with details
decal (sticker)
scheme for staining patterns
detailed instruction in Russian and English languages
MARKTPLATZ
Diese Website enthält Affiliate-Links zu Produkten. Wir erhalten möglicherweise eine Provision für Einkäufe, die über diese Links getätigt werden.
BAT 72001 Nieuport Ni.21 (France)
See on Hobby.dn.ua »
Von: Ukraine
Verkäufer: Hobby.dn.ua
Stock: PreOrder
Bat Projekt - 72001-Nieuport ni.21 (French AF, Russische AF) - 1:72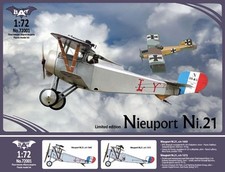 See on Ebay »
Shipping to: Germany
From: Ukraine
Seller: eugene_lemeshko
99.0% Positive votes
Nieuport Ni.21, France · BAT Project · Maßstab 1:72
See on Modellbau Universe »
Von: Germany
Verkäufer: Modellbau Universe
Stock: zur Zeit nicht lieferbar
* Informationen zu Preis und Versand haben sich möglicherweise seit unserem letzten Update geändert, und es können andere Bedingungen gelten.
Überprüfen Sie vor dem Kauf auf der Partnerseite.