Spitfire PR. Mk.XI
"International"
Unassembled plastic model kit in 1/72 scale of a British WWII fighter aircraft Spitfire, variant PR Mk.XI, a photo reconnaissance specific variant.
Kit includes a decal sheet with three different markings, all of them post-war markings and in foreign use, including markings for Argentinian air force, Danish air force and Norwegian air force.
MARKTPLATZ
Diese Website enthält Affiliate-Links zu Produkten. Wir erhalten möglicherweise eine Provision für Einkäufe, die über diese Links getätigt werden.
KP Modelle 1/72 0293 Spitfire PR. Mk.XI ""International"" Kunststoffbausatz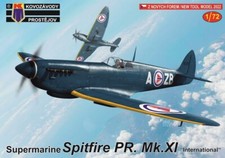 Siehe bei Ebay.de »
Versand nach: Germany
Von: Poland
Verkäufer: scalemodels_4you
99.9% Positive Stimmen
* Informationen zu Preis und Versand haben sich möglicherweise seit unserem letzten Update geändert, und es können andere Bedingungen gelten.
Überprüfen Sie vor dem Kauf auf der Partnerseite.