Tachikawa Ki-94 II
2 decal variants for Japan
1. 244th Sentai Chofu air-base Late 1945
2. 244th Sentai,Chofu air-base August 1945
The aircraft from Tachikawa was a single high-altitude fighter. Was to be powered by a turbosupercharged 2400 hp Nakajima Ha 44-12 18-cylinder. The specialized purpose was of course to intercept the formation of B-29 bombers. The first Ki-94-II was scheduled for completion on July 1945. The six-blade propeller was not ready in time, and it was decided to begin testing of the first prototype on 18 August 1945.
MARKTPLATZ
Diese Website enthält Affiliate-Links zu Produkten. Wir erhalten möglicherweise eine Provision für Einkäufe, die über diese Links getätigt werden.
RS Modelle 1/72 Tachikawa ki-94-ii japanische WWII Fighter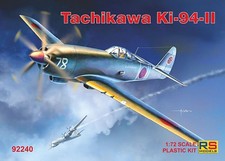 See on Ebay »
Shipping to: Germany
From: United States
Seller: rebelalpha
100.0% Positive votes
* Informationen zu Preis und Versand haben sich möglicherweise seit unserem letzten Update geändert, und es können andere Bedingungen gelten.
Überprüfen Sie vor dem Kauf auf der Partnerseite.