Henschel Hs 126 A/B Blitzkrieg
Unassembled plastic model kit in 1/72 scale of a Henschel Hs 126 German WW2 Reconnaissance aircraft.
Kit includes decals for 3 different german markings for the early stages of the war when the type was used in its role of observation aircraft.
MARKTPLATZ
Diese Website enthält Affiliate-Links zu Produkten. Wir erhalten möglicherweise eine Provision für Einkäufe, die über diese Links getätigt werden.
Sabrekits 7010 1/72 Henschel hs-126 Blitzkrieg
See on Ebay »
Shipping to: Germany
From: Poland
Seller: scalemodels_4you
99.9% Positive votes
Henschel Hs-126 A/B "Blitzkrieg", 1:72, Sabre Kits, Plastikmodellbausatz, Neu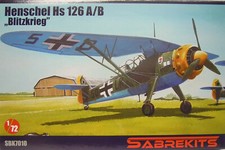 See on Ebay »
Shipping to: Germany
From: Germany
Seller: raduir
98.6% Positive votes
1/72 Hs 126 Blitzkrieg
See on Hlj.com »
Von: Japan
Verkäufer: Hlj.com
Stock: In Stock
* Informationen zu Preis und Versand haben sich möglicherweise seit unserem letzten Update geändert, und es können andere Bedingungen gelten.
Überprüfen Sie vor dem Kauf auf der Partnerseite.