UH-60J(SP) Rescue Hawk
"Naha Air Rescue 40th Anniversary"
Unassembled plastic model kit in 1/72 scale of a U.S. Sikorsky UH-60 Black Hawk utility helicopter in an J variant, a Japanese specific rescue variant produced under license by Mitsubishi Heavy Industries for both the Japanese Air Self Defense Force and Maritime Self Defense Force.
Kit released in 2022, limited edition of the Hasegawa UH-60J kit with and special decal for a marking commemorating the 40th Anniversary of the Haha Air Base Air Rescue group, Aircraft nº590. Kit includes PE detail parts and extra parts for antenna.
MARKTPLATZ
Diese Website enthält Affiliate-Links zu Produkten. Wir erhalten möglicherweise eine Provision für Einkäufe, die über diese Links getätigt werden.
1/72 UH-60J (SP) Rescue Hawk Naha Rescue Team 40th Anniversary
See on Hlj.com »
Von: Japan
Verkäufer: Hlj.com
Stock: Preorder
Vorbehalte Hasegawa 02414 1/72 uh-60j SP Rescue Hawk Naha Team 40 runden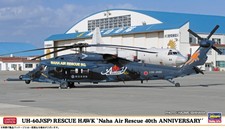 See on Ebay »
Shipping to: Germany
From: Japan
Seller: bears2636
98.7% Positive votes
* Informationen zu Preis und Versand haben sich möglicherweise seit unserem letzten Update geändert, und es können andere Bedingungen gelten.
Überprüfen Sie vor dem Kauf auf der Partnerseite.