Saturn V w/Skylab
Newly tooled Saturn V rendered w/authentic detail
Authentic and true-to-scale representation of Skylab
Solar panels presented in folded position w/fine detail
Skylab with its solar observatory, airlock and workshop rendered in remarkable detail
Folded-up skeletal structure for Skylab's solar array rendered in fine detail
Slide-molded S-II second stage w/J-2 engine
Ullage rocket motors molded on second stage
Display stand newly designed especially for Saturn V
Detailed Saturn V sections can be separately assembled
Realistic fuel tanks installed
Slide-molded S-IC first stage w/F-1 engines
Detailed pattern on the bottom of S-IC first stage
Detailed gimbal motors molded on external nozzles
The 1/72 scale plastic kit of a Saturn V rocket (Item No.11017) created a huge buzz among space aficionados! Even in miniature form, it was absolutely enormous as the completed model stood an unbelievable 1.5m tall. It was highly praised for its level of detail too. As the longest, heaviest and most powerful rocket ever produced, the original Saturn V stood 110.6m high and had a diameter of 10.1m. The Saturn V was at the heart of NASA's Apollo and Skylab programs. The Saturn V's last ever use was the launch of Skylab (mission SL-1) on 14 May 1973, where the upper stage was replaced to accommodate this early space station.
Owners of Dragon's Saturn V rocket will cause jaws to drop, while the finished model will without fail draw gasps of astonishment from onlookers! This is the second monstrous 1/72 scale kit of this rocket type and it comes with brand new toolings. The most obvious difference is the upper stage, which employed an S-IVB stage from a Saturn IB rocket. What's especially significant about that this part is that half of it is made of transparent plastic to allow viewers to see Skylab nestled neatly inside. All relevant details are carefully reproduced on the two rocket stages and Skylab, and the model comes with accurate and large decals to provide relevant markings. This Saturn V kit will be a centerpiece of any space fan's collection, and as such it comes with a stable circular base to allow it to stand stably on the floor.
MARKTPLATZ
Diese Website enthält Affiliate-Links zu Produkten. Wir erhalten möglicherweise eine Provision für Einkäufe, die über diese Links getätigt werden.
Neue Ware 1/72 Masken SKYLAB SATURN V Kabuki-nwm003 für Dragon kit#11021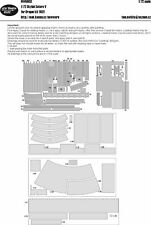 See on Ebay »
Shipping to: Germany
From: United States
Seller: victorymodelsproductions
99.8% Positive votes
* Informationen zu Preis und Versand haben sich möglicherweise seit unserem letzten Update geändert, und es können andere Bedingungen gelten.
Überprüfen Sie vor dem Kauf auf der Partnerseite.