M3A1 Scoutcar
AccsGb is a brand new from UK, manufacturing and engineering in Ukraine at this moment. To start they planned 3 equal sets, for the M3A1 Scoutcar, something not of our taste. Code numbers 72010 and 72020 contains exactly the same model with just the difference on decals, 72010 contains U.S.A and Russian (Lend lease) decals. 72020 Contains British & French version decals.
72030 could made more sense, as is an special release with extra resin and PE details parts, plus all the above decals.
So pay a lot of attention to which box are you purchasing.
MARKTPLATZ
Diese Website enthält Affiliate-Links zu Produkten. Wir erhalten möglicherweise eine Provision für Einkäufe, die über diese Links getätigt werden.
1/72 m3a1 Scout Profi (4 Decals Version, res&pe Set) - AGB 72030!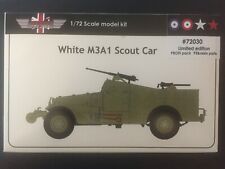 See on Ebay »
Shipping to: Germany
From: Ukraine
Seller: linsal77
99.3% Positive votes
AGB 72020 White M3A1 Scout Car (UK, Frankreich) WWII gepanzerten Wagen Kunststoff Modell 1/72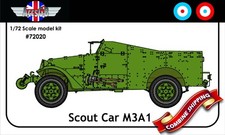 See on Ebay »
Shipping to: Germany
From: Ukraine
Seller: eugene_lemeshko
99.5% Positive votes
* Informationen zu Preis und Versand haben sich möglicherweise seit unserem letzten Update geändert, und es können andere Bedingungen gelten.
Überprüfen Sie vor dem Kauf auf der Partnerseite.