Plastic model SU-76I (or sometimes labelled SU-762) contains high quality plastic parts, complemented by a metal gun barrel and resin parts for easy construction. Clear full-colour instruction leads step by step through the construction and also includes full-colour pictures of offered camouflage variants.
SU-76I (and also SU-762) was according to Soviet terminology self-propelled gun, but by its characteristics it was typical tank destroyer. It was built on the chassis of captured German tank PzKpfw III and it was using the same gun as the legendary tank T-34 / 76. Although the basis for its production were captured chassis, it was produced in large quantities -200-300 units built (according to other sources even more than 2000). The AFVs were deployed in battles during the whole year 1943 and winter 1943/44, including the famous Battle of Kursk. The German army considered this version much high valuable than the original tank Panzer III and thus captured several pieces (indicated number has been 4) deployed in the fighting against the Red Army. The Soviet Army released last pieces from the front during the spring of 1944 and transferred them to the training units. Few pieces have been surviving till today in museums and memorials.
MARKTPLATZ
Diese Website enthält Affiliate-Links zu Produkten. Wir erhalten möglicherweise eine Provision für Einkäufe, die über diese Links getätigt werden.
1/72 SU-76I Soviet Army
See on Hlj.com »
Von: Japan
Verkäufer: Hlj.com
Stock: In Stock
Attack Hobby at72890 1/72 WWII Soviet Assault Gun su76i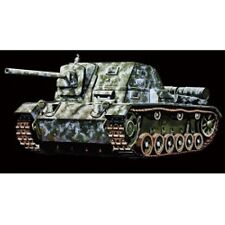 See on Ebay »
Shipping to: Germany
From: United States
Seller: smallmilitarymodelsandmore
99.7% Positive votes
* Informationen zu Preis und Versand haben sich möglicherweise seit unserem letzten Update geändert, und es können andere Bedingungen gelten.
Überprüfen Sie vor dem Kauf auf der Partnerseite.