The Wasserfall Ferngelenkte FlaRakete was a World War II guided surface-to-air missile developed at Peenemünde, Germany. Learn more.
This model was also available in the Extratech catalog, but it's out of production and is very hard to find. The Brengun model showed here is an excellent quality ones also with photo-etched parts.
MARKTPLATZ
Diese Website enthält Affiliate-Links zu Produkten. Wir erhalten möglicherweise eine Provision für Einkäufe, die über diese Links getätigt werden.
Brengun BRL72002
See on Hannants »
Von: United Kingdom
Verkäufer: Hannants
Stock: InStock
1/72 EMW C2 Wasserfall
See on Hlj.com »
Von: Japan
Verkäufer: Hlj.com
Stock: Out of Stock
Brengun 1/72 brp72002 Hundemarke Rakete c2 Kunststoff Kit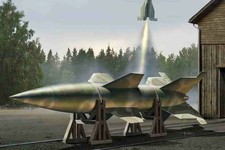 See on Ebay »
Shipping to: Germany
From: Poland
Seller: aya1970pl
100.0% Positive votes
* Informationen zu Preis und Versand haben sich möglicherweise seit unserem letzten Update geändert, und es können andere Bedingungen gelten.
Überprüfen Sie vor dem Kauf auf der Partnerseite.