M2A3 Bradley BUSK III
Unassembled plastic model kit in 1/72 scale of a U.S. Infantry Fighting Vehicle M2A3 Bradley fitted with one of the latest upgrade packages BUSK (Bradley Urban Survival Kit) III.
Kit includes 3D printed parts for rear-mounted air-conditioners, upgraded side skirts with associated ERA, Driver's Vision Enhancer and the commander's Transparent Armor Gun Shield. Kit includes also PE parts. Tracks are single piece type.
MARKTPLATZ
Diese Website enthält Affiliate-Links zu Produkten. Wir erhalten möglicherweise eine Provision für Einkäufe, die über diese Links getätigt werden.
1/72 THE GHOST OF KYIV MIG-29 of Ukrainian Air Force
See on Hlj.com »
Von: Japan
Verkäufer: Hlj.com
Stock: Preorder
Memoiren 1/72 Dragon Armor US Army m2a3 Bradley Busk III Infanterie Tunk LTD Japan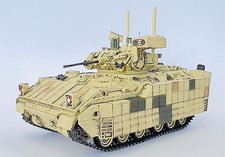 See on Ebay »
Shipping to: Germany
From: Japan
Seller: carrot-baby2
97.0% Positive votes
* Informationen zu Preis und Versand haben sich möglicherweise seit unserem letzten Update geändert, und es können andere Bedingungen gelten.
Überprüfen Sie vor dem Kauf auf der Partnerseite.