M1240 M-ATV
Mine Resistant Ambush Protected all terrain vehicle with O-GPK Turret.
*There are 2 packages for this kit number by Galaxy Hobby, one of them labeled as x2 contains 2 kits inside, an important difference. Be aware about what you purchase.
MARKTPLATZ
Diese Website enthält Affiliate-Links zu Produkten. Wir erhalten möglicherweise eine Provision für Einkäufe, die über diese Links getätigt werden.
Galaxy Hobby GH72A01 1/72 M1240 MRAP geländegängigen Fahrzeug mit O-GPK Revolver (1pcs)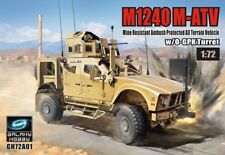 See on Ebay »
Shipping to: Germany
From: China
Seller: xfree-hobby
99.9% Positive votes
1/72 M1240 M-ATV MRAP Mine Beständig Hinterhalt Geschützt Alle Gelände Fahrzeug w/O-GPK Revolver RC Auto Modell Spielzeug Kit GH72A01
See in AliExpress »
Was 34.84 EUR and now it's 26.48 EUR, a 24% discount.

T-MODEL (Galaxy Hobby) 1/72 M1240 M-ATV mit O-GPK-Turm #GH72A01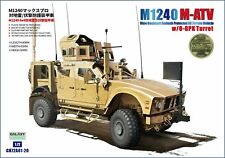 See on Ebay »
Shipping to: Germany
From: United States
Seller: staadiii
100.0% Positive votes
* Informationen zu Preis und Versand haben sich möglicherweise seit unserem letzten Update geändert, und es können andere Bedingungen gelten.
Überprüfen Sie vor dem Kauf auf der Partnerseite.