Russian 9A52-2 Smerch-M multiple rocket launcher
of RSZO 9k58 Smerch MRLS
Unassembled plastic model kit in 1/72 scale of a Soviet BM-30 Smerch heavy multiple rocket launcher, a soviet design of the early 80s introduced during the late 80s and remaining in service in several ex-Soviet republics as well as Russia. During the conflict between Russian and Ukraine the Smerch and Smerch-M has seen action in both sides.
BM-30 Smerch fires a load of 12 x 300mm solid-fuelled projectiles, intended to fire over concentration areas. The 9A52-2 uses a variant of the MAZ-543M truck chassis.
Kit consists of over 100 parts, includes rubber tires and decal sheet contains six different markings.
MARKTPLATZ
Diese Website enthält Affiliate-Links zu Produkten. Wir erhalten möglicherweise eine Provision für Einkäufe, die über diese Links getätigt werden.
Hobby Boss 1/72 russischer 9A52-2 Smerch-M Mehrfachraketenwerfer von R HBB82940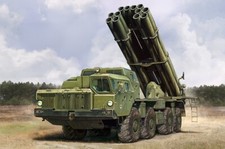 Siehe bei Ebay.de »
Versand nach: Germany
Von: United States
Verkäufer: hobby-usa
99.7% Positive Stimmen
* Informationen zu Preis und Versand haben sich möglicherweise seit unserem letzten Update geändert, und es können andere Bedingungen gelten.
Überprüfen Sie vor dem Kauf auf der Partnerseite.