A10 MK.IA CS
British Cruiser Tank
Unassembled plastic model kit in 1/72 scale of a British WWII tank A10 Mk.IA (Cruiser Mk II) Close Support (CS) version, fitted with a 3.7 in (94 mm) howitzer gun as main armament. The IA notation also indicated that the coaxial machine gun is a BESA instead of a Vicker as on the series I (CS were only produced on the IA version).
British doctrine at the time, issued this tanks to launch smoke cover to infantry movements, so they mainly carried smoke shells and just few of high explosive (HE ) type.
MARKTPLATZ
Diese Website enthält Affiliate-Links zu Produkten. Wir erhalten möglicherweise eine Provision für Einkäufe, die über diese Links getätigt werden.
1:72 IBG W-014 britischer Kreuzer Panzer A10CS Mk. IA (World at War Serie) OVP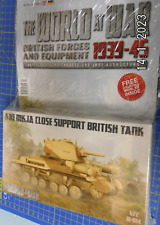 Siehe bei Ebay.de »
Versand nach: Germany
Von: Germany
Verkäufer: gunman308
100.0% Positive Stimmen
* Informationen zu Preis und Versand haben sich möglicherweise seit unserem letzten Update geändert, und es können andere Bedingungen gelten.
Überprüfen Sie vor dem Kauf auf der Partnerseite.