First release by the brand depict this light tank used during the Spanish Civil War by the Nationalist side.
Box contains 3 fast-built tanks, with two turret version. Some of them where modified in Spain to carry on a 20mm Breda machine Gun.
Decals include option for Spanish, Chinese and German versions.
All images copyright © Minairons Miniatures http://minairons-news.blogspot.nl/ http://www.minairons.eu/

MARKTPLATZ
Diese Website enthält Affiliate-Links zu Produkten. Wir erhalten möglicherweise eine Provision für Einkäufe, die über diese Links getätigt werden.
Minairons Spanischer Bürgerkrieg 1:100 Panzer I Ausf. A Pack neu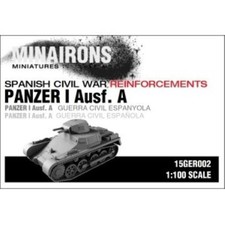 See on Ebay »
Shipping to: Germany
From: United States
Seller: nobleknightgames
99.8% Positive votes
* Informationen zu Preis und Versand haben sich möglicherweise seit unserem letzten Update geändert, und es können andere Bedingungen gelten.
Überprüfen Sie vor dem Kauf auf der Partnerseite.