German Ausf. vierfüßler 2cm Flakvierling 38
Fist of War
Unassembled plastic model kit in 1/72 scale of a fictional subject inspired in German WWII projects and designs. The term vierfüßler literally translates as "quadruped stand" and that's exactly what the kit is, a four legged E-50 tank chassis with a twin Flak 38 anti-aircraft gun just fitted over the chassis in a total open configuration.
MARKTPLATZ
Diese Website enthält Affiliate-Links zu Produkten. Wir erhalten möglicherweise eine Provision für Einkäufe, die über diese Links getätigt werden.
1/72 German Army Vierfussler 4-Legged 2cm Flak38 Quadruple Anti-Aircraft Gun
See on Hlj.com »
Von: Japan
Verkäufer: Hlj.com
Stock: Out of Stock
Modelcollect UA72350 - 1:72 Fist of war, WWII germany E50 with flak 38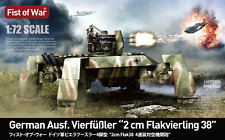 Siehe bei Ebay.de »
Versand nach: Germany
Von: Germany
Verkäufer: ms-plueth
99.9% Positive Stimmen
* Informationen zu Preis und Versand haben sich möglicherweise seit unserem letzten Update geändert, und es können andere Bedingungen gelten.
Überprüfen Sie vor dem Kauf auf der Partnerseite.