Middle East AFV Set A
Unassembled plastic model kits in 1/72 scale of two soviet vehicles, a BRDM-2 armoured car, an amphibious armored scout car introduced in the early 60s, and Infantry Fighting Vehicle (IFV) BMP-1, developed in mid 60s. Both vehicles were largely produced and exported, remaining in service with several operators.
Box contains two models, both previously released by the brand, one model from S-Model – PS720041 – BMP-1 Infantry Fighting Vehicle and one from S-Model – PS720023 – BRDM-2 Armoured Scout Car (Late version)
MARKTPLATZ
Diese Website enthält Affiliate-Links zu Produkten. Wir erhalten möglicherweise eine Provision für Einkäufe, die über diese Links getätigt werden.
S-modell ST007201 1/72 Nahen Osten AFV Set EINE 2 in 1
See in AliExpress »
Was 14.47 EUR and now it's 13.60 EUR, a 6% discount.

S-Modell ST007201 1/72 Nahost AFV Set A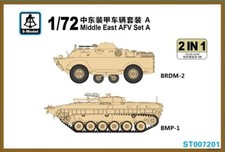 See on Ebay »
Shipping to: Germany
From: China
Seller: xfree-hobby
100.0% Positive votes
* Informationen zu Preis und Versand haben sich möglicherweise seit unserem letzten Update geändert, und es können andere Bedingungen gelten.
Überprüfen Sie vor dem Kauf auf der Partnerseite.