Persian Cavalry
Battle of Cunaxa 401 B.C. Xenophon's War, SET 3
Unpainted plastic soldiers in 1/72 scale depicting Persian Cavalry during the Battle of Cunaxa, a "civil war" battle between the Persian king Artaxerxes II and his brother Cyrus the Younger. Cyrus had a large contingent of Greek mercenaries, know as "The Ten thousands" that eventually won the battle, but Cyrus died on the battle and Greek troops were left without allies in the middle of the Persian Empire but eventually they were able to return to safe Greek colonies through Corduene and Armenia.
This box contains a mix of mounted and foot figures, for a total of 12 figures in 12 poses. Ten are mounted figures and there are two on foot figures. The box also contains eight horses in four poses and two Bactrian camels in a single pose which is an excellent addition.
Thought both sides had Persian cavalry, and this set can work for both, Artaxerxes had the largest contingent of Persian Cavalry in the battle, considered as the best of the world at the time.
MARKETPLACE
This site contains affiliate links to products. We may receive a commission for purchases made through these links.
Linear-A LA036
See on Hannants »
From: United Kingdom
Seller: Hannants
Stock: InStock
Linear-A 1/72 Battle of Cunaxa 401B.C. Set 3 'Persian Cavalry' # 036
See on eModels »
From: United Kingdom
Seller: eModels
Stock: In Stock
Linear-A - 036 - Battle of Cunaxa 401B.C. Set 3 "Persian Cavalry" - 1:72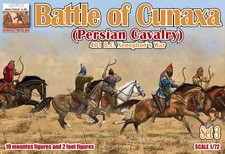 See on Ebay »
Shipping to: Australia
From: Italy
Seller: corradovalentini_68
99.7% Positive votes
*Information on price and shipping may have changed since our last update as well as other conditions can apply.
Check on partner site before buy.