Air Combat WWII Battle Set
Model set in 1/72 scale focused on Eastern Front air combat, re-using previous released models.
Box contains 5 full aircraft models, plus 2 figures boxes.
The figure kits are:
Zvezda – 6188 – German air force ground crew
Zvezda – 6187 – Soviet air force ground crew
Both of them consisting of 5 different figures and some accessories.
The model kits are:
Zvezda – 7304 – German fighter Focke-Wulf FW-190 A4
Zvezda – 7302 – German fighter Messerschmitt Bf-109 F2
2 x Zvezda – 7301 – Yak-3 Soviet Fighter (One of them seems to wear Yak-3 Normandie schema, which would mean new decals, but it's unconfirmed)
Zvezda – 7306 – German dive bomber JU-87B2 "Stuka"
OFERTAS
Este sitio contiene enlaces de afiliados a productos. Podemos recibir una comisión por las compras realizadas a través de estos enlaces.
Zvezda 5205 Air Combat Segunda Guerra Mundial (Bf 109, Ju 87, Fw 190, 2x Yak 3, Fig.), 1:72, EXCELENTE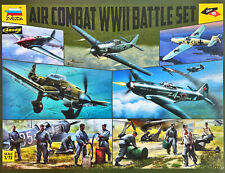 Ver en Ebay.es »
Enviando a: Spain
Pujas:0
Desde: Germany
Vendedor: oscar_echo
100.0% Votos positivos
*La información de precio y envío podría haber cambiado desde la última que actualizamos los datos y otras condiciones pueden aplicar.
Comprueba la información en el sitio asociado antes de comprar.