KT-104/PERUN Hanged Man Rematch Ver.
Armored Core V
Unassembled plastic model kit in 1/72 scale of a Fantasy & Sci-fi subject based on Armored Core video game franchise universe.
Plastic parts are pre-coloured and once assembled model is poseable. Kit is in the 400-600 parts range, with about 30 articulable points. 180mm height once built.
Marché
Ce site contient des liens d'affiliation vers des produits. Nous pouvons recevoir une commission pour les achats effectués par le biais de ces liens.
NEW Kotobukiya Armored CoreV KT-104/PERUN Hanged Man Rematch 1/72 Scale Model Ki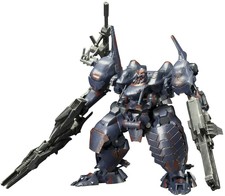 See on Ebay »
Shipping to: France
From: Japan
Seller: jp-distribution
96.6% Positive votes
*Les informations sur le prix et l'expédition peuvent avoir changé depuis notre dernière mise à jour ainsi que d'autres conditions peuvent s'appliquer.
Vérifiez sur le site partenaire avant d'acheter.