Dougram Ver. GT
Unassembled plastic model kit in 1/72 scale, inspired in the Fang of the Sun Dougram anime series, upgraded Dougram kit as it appears on the Get Truth Fang of the Sun Dougram anime comic. Kit includes new parts, all is snap-fit and no glue is required for assembling. Once built, kit is poseable.
Includes Turbo Pack, Linear Cannon, Linear Gun and Missile Pod parts.
Same kit, with less extra parts, was released together with the Comic in an special edition in late 2021.
Marché
Ce site contient des liens d'affiliation vers des produits. Nous pouvons recevoir une commission pour les achats effectués par le biais de ces liens.
1/72 COMBAT ARMORS MAX27: Dougram Ver. GT
See on Hlj.com »
De: Japan
Vendeur: Hlj.com
Stock: Discontinued
Max Factory 1/72 Dougram ver.GT No.726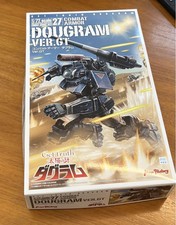 Voir sur Ebay.fr »
Expédition vers: France
De: Japan
Vendeur: pretaporter_chin_jp
92.1% Votes positifs
*Les informations sur le prix et l'expédition peuvent avoir changé depuis notre dernière mise à jour ainsi que d'autres conditions peuvent s'appliquer.
Vérifiez sur le site partenaire avant d'acheter.