An-14 NATO code "Clod"
Aeroflot
Unassembled plastic model kit in 1/72 scale of a Soviet 60s Antonov An-14 utility aircraft, a twin-engined STOL aircraft which was not a great success and only produced in over 300 units till 1972.
Kit includes Aeroflot (Red) markings.
Marché
Ce site contient des liens d'affiliation vers des produits. Nous pouvons recevoir une commission pour les achats effectués par le biais de ces liens.
1/72 An-14 Red Aeroflot _ new Amodel 72224 _ reissue!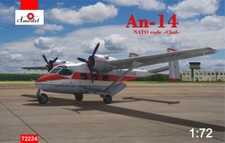 Voir sur Ebay.fr »
Expédition vers: France
De: Ukraine
Vendeur: linsal77
99.3% Votes positifs
*Les informations sur le prix et l'expédition peuvent avoir changé depuis notre dernière mise à jour ainsi que d'autres conditions peuvent s'appliquer.
Vérifiez sur le site partenaire avant d'acheter.