WWII German Fallschirmjäger Heavy Weapons (7.5cm Leichtgeschütz 40)
Box contains around 19 figures (in 9 poses) plus one 7.5 cm Leichtgeschütz 40 or LG 40, and one sPzB 41, there are poses enough to give them a crew of 2 or 3.
Marché
Ce site contient des liens d'affiliation vers des produits. Nous pouvons recevoir une commission pour les achats effectués par le biais de ces liens.
CSR H098 WWII German Fallschirmjager Heavy Weapons (7.5 cm Leichtgeschutz 40)
See on Hobby.dn.ua »
De: Ukraine
Vendeur: Hobby.dn.ua
Stock: PreOrder
Caesar Miniatures #098 WWII German Fallschirmjager Heavy Weapons 1/72 11 Figures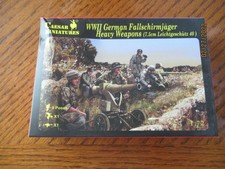 See on Ebay »
Shipping to: France
From: United States
Seller: agcw18
99.2% Positive votes
*Les informations sur le prix et l'expédition peuvent avoir changé depuis notre dernière mise à jour ainsi que d'autres conditions peuvent s'appliquer.
Vérifiez sur le site partenaire avant d'acheter.