The Army of Pyrrhus of Epirus
INFANTRY ALLIES / MERCENARIES Set 2
Unpainted plastic soldiers in 1/72 scale, depicting, as the very descriptive title by the brand already tell us, mercenary or allies infantry of the army of Pyrrhus of Epirus, during the so called Pyrrhic War, 280-275 BC., which was a conflict between Republican Roman and Epirus, an ancient Greek state settled in today northwest Greece and Albania. During this war Epirus achieved some initial victories at the cost of heavy casualties, and while Rome could refill their legions Pirus had more problems to recruit more allies or troops. At the end of the campaign Rome asserted its hegemony over southern Italy and the Hellenistic world started to pay attention to this growing Italian state.
This was was also the first time Rome faced Greek professional mercenaries and such men are depicted in this set.
Box contains 48 foot figures in 12 different poses.
Marché
Ce site contient des liens d'affiliation vers des produits. Nous pouvons recevoir une commission pour les achats effectués par le biais de ces liens.
Linear-A LA045
See on Hannants »
De: United Kingdom
Vendeur: Hannants
Stock: InStock
Linear-A 1/72 The Army of Pyrrhus of Epirus Infantry Allies / Mercenaries Set 2 3rd Century BC # 045
See on eModels »
De: United Kingdom
Vendeur: eModels
Stock: In Stock
Linear A #45 The Army of Pyrrhus of Epirus Infantry Allies / Mercenaries 1/72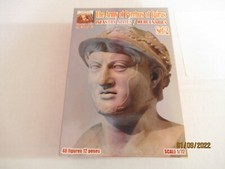 See on Ebay »
Shipping to: France
From: United States
Seller: agcw18
99.5% Positive votes
*Les informations sur le prix et l'expédition peuvent avoir changé depuis notre dernière mise à jour ainsi que d'autres conditions peuvent s'appliquer.
Vérifiez sur le site partenaire avant d'acheter.