US 81-MM Mortar M1
with Crew
Unpainted and unassembled plastic soldiers in 1/72 scale depicting a U.S. WWII mortar team, using a mortar M1, a 81mm mortar developed from the French Brandt Mle 27/31 mortar, in service before the outbreak of the WWII and lasted in production and service till 50s, seeing service also during Korean War and Vietnam War.
The box includes 4 crew figures, all of them are multipart which require some assembly, but not glue is required. Each figured is composed of three parts, the mortar itself is composed also of three parts.
The quality of the sculpture is excellent without dude, the engineering in multipart ensures also the quality of the cast and this set continues the line long ago introduced by Zvezda.
Figures are suitable for the European theater. One of the odds of the set is that the original crew of the mortar was composed of 8 members, while the set provides just four. Set includes the squad leader, gunner and two ammunition bearers, while lacks of the assistant gunner and three more ammunition bearers. In any case is a welcome addition to the already wide range of U.S. WWII models and figures available, and it's without the best depiction of the mortar in 1/72 scale at the time of release in 2023.
Marché
Ce site contient des liens d'affiliation vers des produits. Nous pouvons recevoir une commission pour les achats effectués par le biais de ces liens.
US 81mm Mortar M1 With Crew WWII ZVEZDA Sc 1:72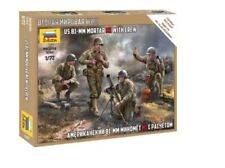 Voir sur Ebay.fr »
Expédition vers: France
De: Italy
Vendeur: mdm_miniatures
99.5% Votes positifs
Kit modèle de mortier américain Zvezda 6287 81 mm M1 avec équipage 1:72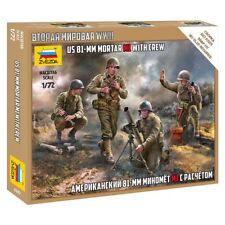 Voir sur Ebay.fr »
Expédition vers: France
De: United Kingdom
Vendeur: jadlamracing
99.6% Votes positifs
Zvezda 1/72 WW2 US81mm Mortar Avec / Ras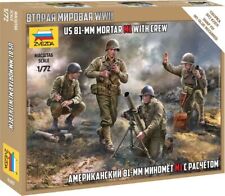 Voir sur Ebay.fr »
Expédition vers: France
De: United Kingdom
Vendeur: fogmodels
99.6% Votes positifs
*Les informations sur le prix et l'expédition peuvent avoir changé depuis notre dernière mise à jour ainsi que d'autres conditions peuvent s'appliquer.
Vérifiez sur le site partenaire avant d'acheter.