Yak-11 / C-11
Two-seat advanced trainer
Unassembled plastic model in 1/72 scale of a Soviet Yakovlev Yak-11 trainer aircraft used from late 40s till 60s by the Soviet Union and other soviet influenced nations. It also was produced under license in Czechoslovakia as the C-11.
Kit includes decal sheet with three Czechoslovak markings, dated late 50s and early 60s.
Marché
Ce site contient des liens d'affiliation vers des produits. Nous pouvons recevoir une commission pour les achats effectués par le biais de ces liens.
RS Models RSMI94009
See on Hannants »
De: United Kingdom
Vendeur: Hannants
Stock: InStock
RS Models 94009 Yak-11/C-11 Aircraft échelle 1/72 Hobby Plastique Neuf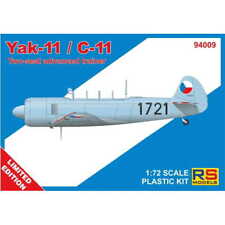 Voir sur Ebay.fr »
Expédition vers: France
De: Poland
Vendeur: megafun2016
99.1% Votes positifs
*Les informations sur le prix et l'expédition peuvent avoir changé depuis notre dernière mise à jour ainsi que d'autres conditions peuvent s'appliquer.
Vérifiez sur le site partenaire avant d'acheter.