Bell H-13J/HUL-1
(US VIP Transport, US Navy, US Coast Guard)
Unassembled plastic model kit in 1/72 scale of a Bell H-13J (Bell 47J Ranger) utility helicopter, the executive version of the Bell 47 helicopter which was produced in over 5000 units in all its variants and derivatives. Around 360 units were built of the Bell 47J Ranger, the first helicopter which carried an U.S. president.
The type was introduced in 1956 and was widely used by many countries in different roles.
LF Models kit consists of around ~73 plastic parts including the options for floats or skis and the 3 clear plastic parts of the canopy. This parts are shared and the same in all the releases by the brand for the H-13J or Bell 47J Ranger kits. Kit includes also PE (photo-etched) detail parts.
This variant includes decal sheet with 3 markings, including the U.S. Presidential helicopter which one removed of President service was used as VIP transport, U.S. Navy (HUL-1 variant, 29 units built later redesignated UH-13P in 1962) and U.S. Coast Guard (designated HUL-1G, and later renamed as UH-13Q). The two later, with floats instead of skis.
Marché
Ce site contient des liens d'affiliation vers des produits. Nous pouvons recevoir une commission pour les achats effectués par le biais de ces liens.
Bell H-13J/ HUL-1, 1/72 , USAF, US Navy, USCG, LF Models PE 7244, New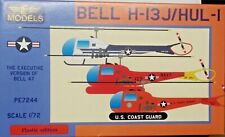 See on Ebay »
Shipping to: France
From: United States
Seller: hliman
100.0% Positive votes
*Les informations sur le prix et l'expédition peuvent avoir changé depuis notre dernière mise à jour ainsi que d'autres conditions peuvent s'appliquer.
Vérifiez sur le site partenaire avant d'acheter.