AH-1G Pale Rider
This kit a re-tooled Matchbox mould for the same topic. Is unclear to us if Mastercraft who originally released the set used licensed Matchbox moulds or just cloned them.
Kit present some amount of flash in some parts, mould line is visible in almost all the parts and may need cleaning. It share the good and bad of the original, too engraved panel lines but well engineered parts and easy to build.
Kit includes decals sheet for two version. Quality of decals is good, paper is very good, and it includes several technical stencils. Instructions sheet is also properly organized and quality printed, being easy to follow which always is something to thanks for.
The same comments apply to all the AH-1 Cobra kits released by Mistercraft, you can find some of them in the related kits section below.
Marché
Ce site contient des liens d'affiliation vers des produits. Nous pouvons recevoir une commission pour les achats effectués par le biais de ces liens.
Moitié prix Bell AH-1 G COBRA (U.S. ARMY & Spanish Navy MKGS) 1/72 MISTERCRAFT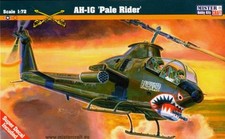 See on Ebay »
Shipping to: France
From: Poland
Seller: trinitymews2
99.8% Positive votes
US Army Hélicoptère d'attaque AH-1G "Pale rider" # échelle 1/72 # MISTERCRAFT B-02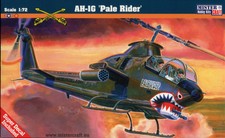 See on Ebay »
Shipping to: France
From: Poland
Seller: a4y-trade
99.8% Positive votes
MISTERCRAFT AH-1G pâle Raider échelle 1:72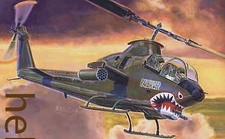 See on Ebay »
Shipping to: France
From: United Kingdom
Seller: jrs_automotive
97.7% Positive votes
*Les informations sur le prix et l'expédition peuvent avoir changé depuis notre dernière mise à jour ainsi que d'autres conditions peuvent s'appliquer.
Vérifiez sur le site partenaire avant d'acheter.