Apollo 17 "The Last J-Mission"
CSM + LM + Lunar Rover
Unassembled plastic model kit in 1/72 scale of a U.S. Spacecraft Apollo 17, the last mission of the Apollo program in 1972 and the last time humans put feet on the Moon surface.
This box includes in fact three full models, as are the Command and Service Module (CSM), the Lunar Module (LM) and the Lunar Rover (Lunar Roving Vehicle, LRV, used in the last three Apollo missions, 15,16 and 17 from 1971 to 1972), together with two Astronauts figures (Gene Cernan and Harrison Schmitt) and preformed Moon surface display base. Some of the elements of the kit has been seen before as the CSM and the LM, the Rover is introduced in this kit for first time and the two figures are new.
The kit contains all the required elements to reproduce this historic moment. The "first production" batch included pre-painted bonus parts for the Lunar Module.
Marché
Ce site contient des liens d'affiliation vers des produits. Nous pouvons recevoir une commission pour les achats effectués par le biais de ces liens.
Dragon 1/72 Apollo 17 The Last Mission # 11015
See on eModels »
De: United Kingdom
Vendeur: eModels
Stock: Out of Stock
Dragon Nasa Apollo 17 CSM LM & Lunar Rover Model The Last J-Mission 1:72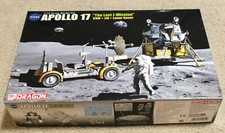 Voir sur Ebay.fr »
Expédition vers: France
De: United States
Vendeur: nascarwinstoncupfan
100.0% Votes positifs
*Les informations sur le prix et l'expédition peuvent avoir changé depuis notre dernière mise à jour ainsi que d'autres conditions peuvent s'appliquer.
Vérifiez sur le site partenaire avant d'acheter.