ARC-170 Clone Fighter
1/83 Scale
Unassembled plastic model kit in 1/83 scale of a Sci-Fi/Fantasy film related kit, based on Star Wars universe, an ARC-170 Starfighter, first appearance in the Star Wars: Episode III Revenge of the Sith film, and considered as precursor of the famous X-Wing fighter.
Kit consists of just 21 parts, easy kit.
Same kit has been released by Revell also as model set, code number 63608
Marché
Ce site contient des liens d'affiliation vers des produits. Nous pouvons recevoir une commission pour les achats effectués par le biais de ces liens.
Maquette ARC-170 CLONE FIGHTER STAR WARS - REVELL - 1/83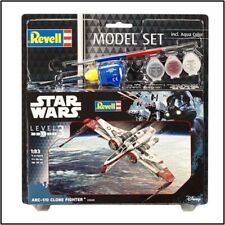 Voir sur Ebay.fr »
Expédition vers: France
De: France
Vendeur: editionscany
99.4% Votes positifs
*Les informations sur le prix et l'expédition peuvent avoir changé depuis notre dernière mise à jour ainsi que d'autres conditions peuvent s'appliquer.
Vérifiez sur le site partenaire avant d'acheter.