Build & Play Poe's Boosted X-Wing Fighter
*This set is not a scale model but a Kid's toy.
Poe's boosted X-wing fighter from the new film Star Wars: The Last Jedi . With pilot figure and authentic sound effects. Simply put it together – no glue, paint or tools needed.
Length approx. 22cm. 21 parts. Suitable for 6 years and over. Batteries included (2 x LR44).
– Engine and combat sounds
– Opening canopy
– Retractable landing gear
– Poe Dameron pilot figure
To give ace pilot Poe Dameron an edge in combat, Resistance engineers have fitted a boosted accelerator pod onto the tail of his T-70 X-wing. This gives him the extra speed he needs to outrun and out maneuver the First Order
Marché
Ce site contient des liens d'affiliation vers des produits. Nous pouvons recevoir une commission pour les achats effectués par le biais de ces liens.
Revell Star Wars Build Play Poe's Boosted X-Wing Fighter 06777 - READ CONDITION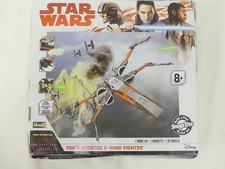 Voir sur Ebay.fr »
Expédition vers: France
De: United States
Vendeur: topline-outlet
99.2% Votes positifs
Kit plastique Revell Star Wars POES BOOSTED X-WING FIGHTER 06763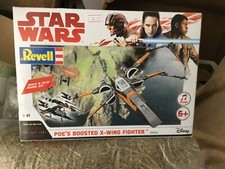 Voir sur Ebay.fr »
Expédition vers: France
De: United Kingdom
Vendeur: wal.aa9ex
99.1% Votes positifs
*Les informations sur le prix et l'expédition peuvent avoir changé depuis notre dernière mise à jour ainsi que d'autres conditions peuvent s'appliquer.
Vérifiez sur le site partenaire avant d'acheter.