M3A1 Scoutcar
AccsGb is a brand new from UK, manufacturing and engineering in Ukraine at this moment. To start they planned 3 equal sets, for the M3A1 Scoutcar, something not of our taste. Code numbers 72010 and 72020 contains exactly the same model with just the difference on decals, 72010 contains U.S.A and Russian (Lend lease) decals. 72020 Contains British & French version decals.
72030 could made more sense, as is an special release with extra resin and PE details parts, plus all the above decals.
So pay a lot of attention to which box are you purchasing.
Marché
Ce site contient des liens d'affiliation vers des produits. Nous pouvons recevoir une commission pour les achats effectués par le biais de ces liens.
1/72 M3A1 Scout Profi (4 decals version,res&PE set) -AGB 72030!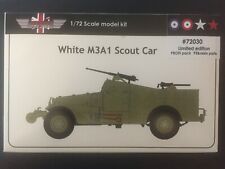 See on Ebay »
Shipping to: France
From: Ukraine
Seller: linsal77
99.3% Positive votes
AGB 72020 White M3A1 Scout Car (UK, France) WWII armored car Plastic Model 1/72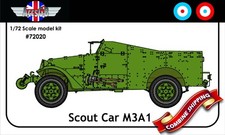 See on Ebay »
Shipping to: France
From: Ukraine
Seller: eugene_lemeshko
99.5% Positive votes
*Les informations sur le prix et l'expédition peuvent avoir changé depuis notre dernière mise à jour ainsi que d'autres conditions peuvent s'appliquer.
Vérifiez sur le site partenaire avant d'acheter.