AB 412 ARMA DEI CARABINIERI
The AB 412 is a medium twin-engine helicopter manufactured by Agusta Westland under license from Bell Helicopter. Directly derived from the Bell 212, it is characterized by the adoption of the composite four-blade main rotor. The AB 412 rapidly became a commercial success and nowadays it is used to perform  either civil or military duties. Military versions are used for the transport of troops, up to 14 soldiers on board, or for the medical evacuation (Medevac) through the possibility of carrying up to six stretchers. The AB 412, thanks to its extraordinary flexibility, can be used in operations of environmental protection, firefighting tasks, and in search and rescue duties.  The AB 412 is also used by the following Italian Corps : Carabinieri, Guardia di Finanza and Vigili del Fuoco.
Mercato
Questo sito contiene link di affiliazione ai prodotti. Potremmo ricevere una commissione per gli acquisti effettuati attraverso questi link.
AB 412 CARABINIERI DECAL ITALERI 1/72 ART. 1361 E A 129 MANGUSTA PARZ. VEDI NOTE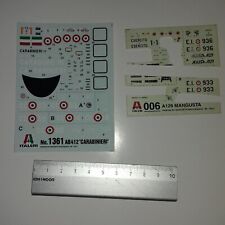 See on Ebay »
Shipping to: Italy
Da: Italy
Seller: dragotin0712
100.0% Positive votes
*Le informazioni sul prezzo e sulla spedizione potrebbero essere cambiate dall'ultimo aggiornamento e possono essere applicate altre condizioni.
Controlla sul sito del partner prima dell'acquisto.