The Army of Athens Set 1
Peloponnesian War Sicilian Expedition 415-413 BC
Unpainted plastic soldiers in 1/72 scale depicting Athenian hoplites during the Peloponnesian War (431–404 BC), a war between Athens and Sparta and their respective allies, which eventually drove to a Spartan hegemony period after Athens defeat in which the Athens defeat in the so called Sicilian Expedition had an important role.
This box contains 48 foot figures in 12 different poses, each pose in a x4 format. All the figures depicts Athenian hoplites during the Peloponnesian War and though labelled as to be part of the Athens attempt to conquest Syracuse (Sicilian Expedition (415–413 BC)) they can be used elsewhere during the period and even as other Greek troops no only Athenian.
Figures detail and sculpture is excellent.
Mercato
Questo sito contiene link di affiliazione ai prodotti. Potremmo ricevere una commissione per gli acquisti effettuati attraverso questi link.
Linear-A LA031
See on Hannants »
Da: United Kingdom
Seller: Hannants
Stock: PreOrder
1:72 personaggi 031 Peloponnesian War, the Army of Athens-LINEARE-A NUOVO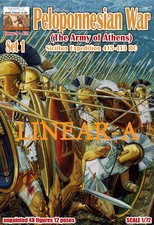 See on Ebay »
Shipping to: Italy
Da: Germany
Seller: linear-ashop
99.5% Positive votes
*Le informazioni sul prezzo e sulla spedizione potrebbero essere cambiate dall'ultimo aggiornamento e possono essere applicate altre condizioni.
Controlla sul sito del partner prima dell'acquisto.