Dacian Army
This box includes 44 figures in 16 different poses, in a mix of foot and mounted figures. The box is a combination of two old EVO (Evolution) and LW products, the Dacian Infantry and the Dacian Cavalry, combined to create this "Dacian Army" box.
The 14 infantry poses of the original LW set LW – 2010 – Dacian Infantry has been keep, but we are unsure of the number, originally they were 42 figures, a 3x format. Same happen with the two mounted figures in two poses, the original EVO set Evolution – EVF036 – Dacian Cavalry (also released two times under LW brand) included the same two poses but provided five different horses and a total of 5 mounted figures. Seem that Mars keep here just 2 figures and 2 of the horses but we are unsure.
The topic is a very interesting one, but quality of the sculpture and cast is far below the best standards of the hobby and even below of the latest Mars products.
Mercato
Questo sito contiene link di affiliazione ai prodotti. Potremmo ricevere una commissione per gli acquisti effettuati attraverso questi link.
Mars - MAR72135 - Dacian Army - 1:72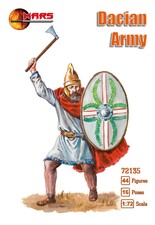 See on Ebay »
Shipping to: Italy
Da: Italy
Seller: corradovalentini_68
98.6% Positive votes
Mars 72135 - Esercito dacio - 1:72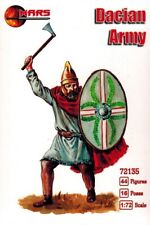 See on Ebay »
Shipping to: Italy
Da: Germany
Seller: dubi-4
100.0% Positive votes
Mars Figures MS72135 - 1:72 esercito dacio - nuovo
See on Ebay »
Shipping to: Italy
Da: Germany
Seller: ms-plueth
99.9% Positive votes
*Le informazioni sul prezzo e sulla spedizione potrebbero essere cambiate dall'ultimo aggiornamento e possono essere applicate altre condizioni.
Controlla sul sito del partner prima dell'acquisto.