Confederate Infantry
Texas Troops
Unpainted plastic soldiers in 1/72 scale depicting Confederate infantry during the American Civil War.
Box contains 34 figures in 14 different poses. They are split in 3 equal sprues, 30 figures in 10 poses, plus a separate command sprue with 4 figures in 4 poses.
Mercato
Questo sito contiene link di affiliazione ai prodotti. Potremmo ricevere una commissione per gli acquisti effettuati attraverso questi link.
Ultima Ratio UR7215
See on Hannants »
Da: United Kingdom
Seller: Hannants
Stock: OutOfStock
ULTIMA RATIO SOLDATI 1/72 -American Ciwil War -Confederate Infantry Texas Troops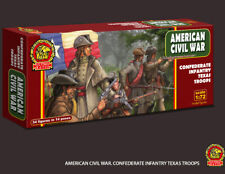 See on Ebay »
Shipping to: Italy
Da: Italy
Seller: giamboneto
99.8% Positive votes
1:72 Ultima Ratio figure #015 guerra civile americana stati del sud fanteria truppe texane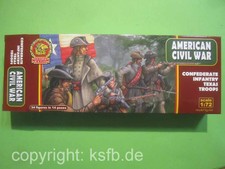 See on Ebay »
Shipping to: Italy
Da: Germany
Seller: kunststoffboerse-2020
100.0% Positive votes
*Le informazioni sul prezzo e sulla spedizione potrebbero essere cambiate dall'ultimo aggiornamento e possono essere applicate altre condizioni.
Controlla sul sito del partner prima dell'acquisto.