BTS-02 Buran Test Vehicle, Antonov Design Bureau
Main body for the shuttle comes in a single piece while small details are made on styrene frames as usual kits. Short run technology. Massive kit.

The BTS-02 was a test vehicle ("Buran aerodynamic analogue") in the Shuttle Buran program. It was constructed in 1984, and was used for 25 test flights between 1985 and 1988 before being retired. It is now standing in Speyer, Germany.
Mercato
Questo sito contiene link di affiliazione ai prodotti. Potremmo ricevere una commissione per gli acquisti effettuati attraverso questi link.
AMO 72027 BTS-02
See on Hobby.dn.ua »
Da: Ukraine
Seller: Hobby.dn.ua
Stock: PreOrder
Amodel 72027 - 1:72 bts-02 Buran Test Vehicle-NUOVO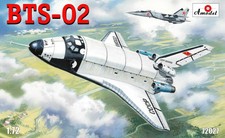 See on Ebay »
Shipping to: Italy
From: Germany
Seller: ms-plueth
99.9% Positive votes
Amodel: BTS-02 Buran test vehicle in 1:72 [7272027]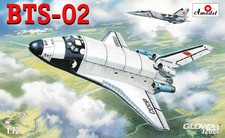 See on Ebay »
Shipping to: Italy
From: Italy
Seller: fm-64
100.0% Positive votes
*Le informazioni sul prezzo e sulla spedizione potrebbero essere cambiate dall'ultimo aggiornamento e possono essere applicate altre condizioni.
Controlla sul sito del partner prima dell'acquisto.